Have you ever encountered the following phenomena?
1. Connect your SD card reader to computer, the window pops up with message "you have to format SD card before using it". After formatting SD card, all your pictures and video lose.
2. During the process of shooting, when open SD card images to manager them, mistakenly press "Format SD Card" button and all your precious images delete.
3. Accidently drop down your digital camera, and lose pictures which are saved before.
4. Lent your Canon 550D to one of your friends and come back with all your previous photos formatted.
……
If you didn't make a backup previously, all files including precious photos, favorite songs and video will be lost and can't be accessed. That really makes us frustrated. Fortunately, format doesn't mean all your files miss permanently, they are just not visible but still in SD card which you saved them at. The following article will show you the main features of SD card and how to recover pictures from formatted SD card.
Brief introduction of SD card
SD card is a non-volatile memory card format developed by the SD Card Association which including Matsushita Electric Industrial Co.Ltd(Panasonic), SanDisk Corporation, Toshiba Corporation, etc. for use in portable devices. It has been commonly used in digital camera these days. Types of SD card including SD memory card, SDHC, miniSD, microSD. Convenient to carry as well as large storage capacity, it becomes more and more popular in our daily digital life. Nevertheless, every coin has two sides, sometimes, you mistakenly format SD card and lose extremely important files. Fortunately, your files occupy a given space on all memory cards. When you format the card, files or photos were stored is not deleted virtually and can be recovered.
How to Recover Pictures from Formatted SD Card?
When you format SD card, First idea comes to your mind may be asking professor to help you. However, that will spend you a lot of money and take a great deal of time. If you are urgent to use the pictures in SD card, that sounds impracticable. Then how to recover photos from formatted SD card with high speed as well as cheaper cost? Card Data Recovery is an easy-to-use SD memory card  recovery program, even a green one can use it freely. There are four modules on Card Data Recovery. "All, photos, music, video" You can recover photos, video, music individually or recover them all at once. Moreover, you can preview pictures and audio before recovery. Here are detailed steps:
Step1: Download Card Data Recovery and install it on your PC, connect your camera or SD card reader to PC.
Step2. Select formatted SD card and "photo", click "Scan" to start scanning lost pictures.
Step3. Check pictures in the task list table and click "recovery" to start recovery.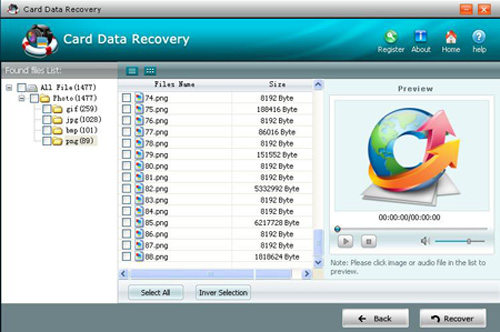 Picture formats supported: JPG, JPEG, TIF, GIF, TIFF, RAW, PNG, PPM, PGM, PBM, PNM, WEBP, PNS, JPS, etc.
Audio and video formats supported: AAC, AC3, AIFF, AMR, AU, FLAC, MP3, M4V, MP2, OGG, WAV, MPEG-4, H.264/MPEG-4 AVC, MOV, M4V, AVI, ASF, WMV, MPEG-1, MPEG-2, 3GP, 3GPP, MKV, FLV, SWF, VOB, etc.