Memory card, no matter it is micro SD card, mini SD card, SD card or other kind of card, could be deleted files from. That's where the data loss begins. Sometimes a accidental deletion, a quick format could be the source of your headache. You might don't know how to recover the files, or you couldn't find the right assistant to help you recover the files. And the files got deleted could be music or photos, anything that might carry with memory. How should we do to recover the music files from the card? Read on to find out.
Some of you might think that storing songs on your memory card is safer than on a hard disk or CD, but songs stored on card still can be deleted, and the file system of the card might still get corrupted. If you find that you have deleted or lost music files from your card, the first thing to do is stop using the card.
Recover Music from Memory Card with Card Data Recovery
1. Connect your memory card to your PC with a card reader and run Card Data Recovery, click Step 1 or "Start" to continue.
2. On the left column, choose your card as the target device. Then choose a recovery mode, if you know exactly in what format your lost files are, choose Advanced Mode, otherwise, Standard Recovery it is. And click "Scan".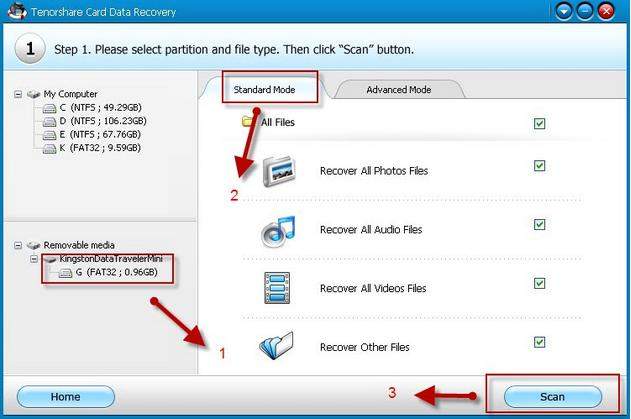 3. After the scanning is done, select the files to preview, and click "Recover". Then choose a location to save the music files to be recovered. Please do not save the files to your card straightly, or your space will be overwritten.
4. Then hit "OK" to finish, and you can see all the recovered photos, videos or files on your chosen location.
There you go, your music files are back! Keep them in a safe place in case anything happen again.