It is not cool to see the photos you shoot in RAW just disappeared from your camera or card. What if it really happens? What if your RAW files were deleted by accident, for your camera or memory card (SD card, CF card and such) that is used to store the files were formatted? How to recover the files? This article will tell you how to complete a RAW files recovery.
RAW image, an image that contains unprocessed or undeveloped data, has been favored by many photographers, both professionals and enthusiasts. Working with RAW files allows you take full control over the image, letting you to determine how the final images should look like. However, RAW images must be post-processed, with the raw conversion software that come with your camera or other digital darkroom software.
So it is definitely a disaster if you have lost the RAW files you took, and you will find that most of the RAW file recovery program you could find is running under Windows. How could you recover the RAW file from your camera or formatted card on Mac? Here is the solution, use Card Data Recovery for Mac. A powerful yet very easy to use tool, that will work wonders on the recovery of your RAW files on Mac.
Recover RAW Files with Card Data Recovery for Mac
1. Connect your CF card, SD card, or hard drive, whichever you have lost files from, and run Data Recovery for Mac. Then choose a data recovery mode. there are two modes to choose from: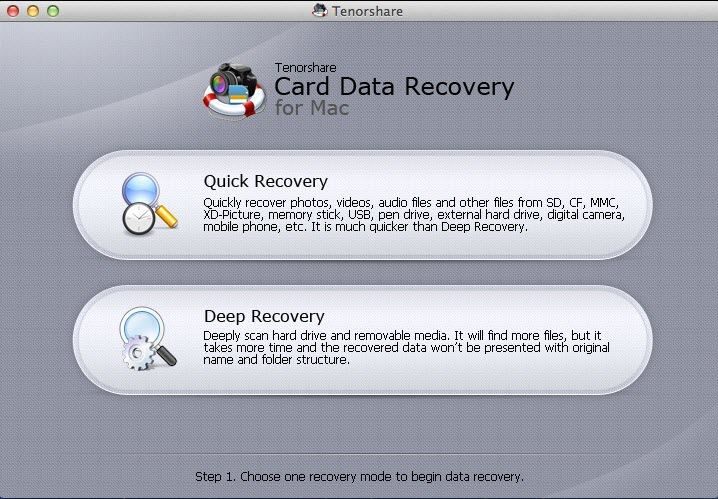 2. Then select your target device, and click "Scan".
3. After scanning you will be able to see all the files it has scanned. Highlight the file by clicking on it to preview, if you want to restore the files, hit "Recover".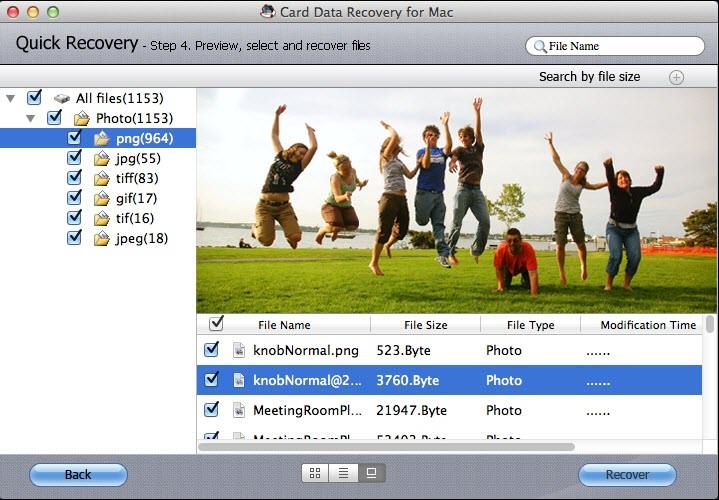 4. Then select a location to save the files to be recovered, and please don't save the files directly onto your card. After it's done, you will be able to see the recovered files and transfer them to wherever you want.
Plus, if you are a Windows user, here is a windows version of Card Data Recovery for you to recover RAW files from camera or memory card.